EXCITING FEATURES THE ENSURE A GREAT EXPERIENCE
This Is A Self-Propelled Zero-Turn Lawn Mower.
Hydrostatic, All-Wheel Drive
A Rotating Blade With An Inclined Tip
A Bucket Can Be Installed As An Excavator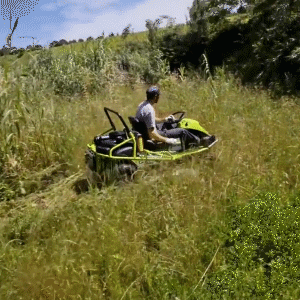 ABOUT OUR SHORT
This Lawn Mower Is The Latest And Most Powerful. Both Axles Are Driven Hydrostatically. There Is A Cutting Platform, A Differential Lock, Front Brake And Electromagnetic Clutch Between The Axles. This Device Is Very Suitable For Cutting Tall Grass, Small Trees And Bushes On Slopes And Uneven Terrain. The 22-Horsepower, Powerful B&S Engine Will Allow Safe And Effective Work In Neglected Areas, Forested Areas And Hard-To-Reach Places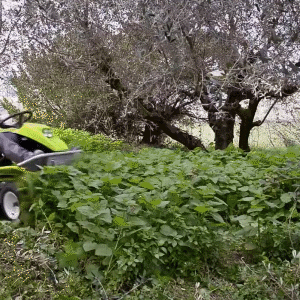 Due To The Need For Higher Efficiency And Reliability Of The Mowing System-Compared With Traditional Lawn Mowers-The Size Of The Wheels Has Been Increased, The Shape Of The Lawn Mower Has Been Changed, And Its Working Width Has Been Increased To 98 Cm. Just Like Its Predecessors-The Device Is Equipped With A Cutting Knife Whose Tip Has Been Polished On Both Sides, So You Can Extend Its Life By Turning It In The Opposite Direction. The Cutting Height Adjustment (From 35 To 135 Mm) Is Carried Out From A Sitting Position With A Lever, Which Is Supported By A Gas Spring For Smooth Adjustment.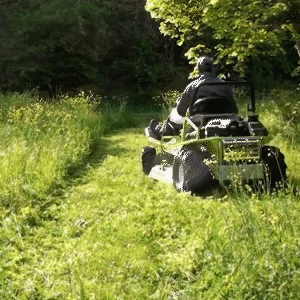 The Very Good Stability Of The Vehicle-Maintained Due To The Reasonable Weight Distribution And Low Center Of Gravity-Will First Of All Ensure Safe And Comfortable Working Conditions For The Operator. The Very Small Turning Radius Of Only 70 Cm Also Allows Mowing In Narrow Streets And Passages. It Is Also Equipped With A Brake Pedal To Lock The Mechanical Differential Locks On The Front And Rear Axles-Also Activated By The Pedal.
One Of The Biggest Advantages Of This Equipment Is Its Powerful Engine, Hydrostatic Transmission And Oil Pump, Which Ensure Smooth Engine Operation-Especially When Working On Slopes. Moving Forward And Backward Is Very Smooth-Thanks To Two Levers That Regulate Driving Power And Direction. The Adjustable Seat With Armrests Also Ensures Comfortable Working Conditions For The Operator. The Seat Is Equipped With An Anti-Vibration System And Automatically Adjusts To Weight. Standard Equipment Includes Engine Hood, Tow Hook, Chronograph And Front LED Lights.
It Can Be Successfully Used On Very Demanding Terrain-This Is A Good Suggestion For Municipal And Gardening Companies And Private Users Who Have To Deal With Very Tall Dense Grass.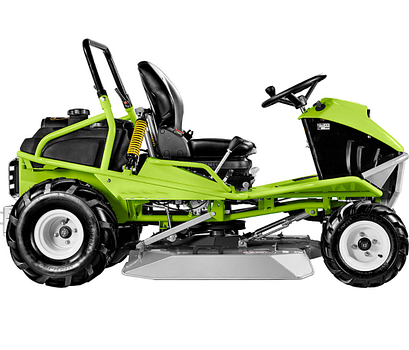 ---
MAINTAINING THE MACHINE:
Engine Briggs & Stratton 8270 Commercial Turf Series
Starter: Electric, With 12 V Battery
Engine: Diesel oil
Displacement: 724 Cm³, 2 Cylinders
Power: 22 Hp (16.2 KW)
Air Cooling Air
Filter With Replaceable Filter Element
Fuel Tank 13 Liters
Driving Hydrostatic, All-Wheel Drive
Mowing, Rear/Side Row Of Grass
Mowing System A Rotating Blade With A Slanted Tip
Cutting Width 980 Mm
Cutting Height Can Be Adjusted Quickly, Six Steps And Smoothly From 35 To 135 Mm By Lever
Blade Peripheral Speed
87 M/S
Diffraction Blocking Manual
Tire 20×10.00-8 (Rear)
16×6.50-8 (Front)
Speed Forward Gear: 0-9 Km/H
Reverse Gear: 0-8 Km/H
Inner Turning Radius 70 Cm
The Parking Brake Is On The Rear Wheel, Controlled By A Lever
The Service Brake Is On The Front Wheels, Controlled By A Pedal
Steering Wheel Fast Height Adjustment, Side Rotation
Seat Amortization, Adjustable, According To The Weight Of The Operator
7,500 Square Meters Per Hour Per Hour
Aspect Length: 2060 Mm
Width: 1080 Mm
Height: 1185 Mm
Weight 385 Kg
WE SHIP DIRECTLY FROM MANUFACTURERS, NO DISTRIBUTORS, AND LOW PRICES.